Fonseca Show Trending (Aaron Fonseca) 05/23/23
Trending
- TMZ says Tom Brady has struck a deal to purchase a portion of the Las Vegas Raiders. The NFL's other owners must approve the deal before Tom becomes a part owner
- Chewboom says participating Krispy Kreme shops are celebrating the Class of 2023 by giving away free donuts tomorrow. In order to get the free donuts, students must wear a shirt, jacket or graduation cap and gown that says they are part of the class.
- CNBC says an olive oil shortage may occur because Spain is experiencing a drought. Olive oil prices are at record highs due to the drought. The poor weather conditions are expected to cut olive oil production by 50%.
- A new survey by the dating site Seeking.com reveals that 35% of couples ended their marriage because of financial disagreements. 46% of men talk about finances on a first date. 42% of women do the same
- The Dirt says Katy Perry has purchased a custom Hollywood Hills penthouse for $11 million. The 3,000 square foot condo has a movie theater, a yoga studio, a zebra wood wet bar, an office and views of the Hollywood hills.
- Ashley Graham tells the Daily Mail that she tapes her mouth shut at night. 'I started taping my mouth shut when I sleep and I have never slept better - and even better when I wake up. Don't knock it till you try it!!'
- KSEE says California is enacting a law that is going to ban Skittles, Hot Tamales and other candies that contain chemicals linked to health issues. Most of the candies are made with Red Dye # 3, brominated vegetable oil and Paraben.
- Murphy's Multiverse says ''Bad Boys 4'' is going to be titled "Bad Boys Ride or Die"
- A new study by Bonusfinder reveals that 92% of UFO spottings take place in the U.S.. Californians see the most UFOs followed by people in the state of Florida and Washington state.
______________________________________
Disneyland Couple Proposes At Same Time: India Today says an unidentified couple was recently at Disneyland when the woman dropped down to one knee in front of a castle and began to propose. Her boyfriend started laughing, removed an engagement ring from his pocket, and also dropped down to one knee. Tourists caught the magic moment on film. The couple accepted each other's proposals.
The Internet reacts ....
"They loved every second of this beautiful coincidence"
"One reason why every man needs at least one pair of cargo shorts. Congratulations to the lovely couple! Wishing you a lifetime of blessings and joy!"
"Tell us you're soulmates, without telling us you're soulmates''
Miley Cyrus tells Vogue magazine that she was a wild child because she wanted to distance herself from her 'Hannah Montana' character. "I carried some guilt and shame around myself for years because of how much controversy and upset I really caused. I was creating attention for myself because I was dividing myself from a character I had played. Anyone, when you're 20 or 21, you have more to prove. 'I'm not my parents.' 'I am who I am.' I was trying to be my own person, but in a bad way."
Pink tells PageSix.com that she's learning that accepting help doesn't make you weak. "For my whole life, I thought asking for help made you a weaker person. Now I'm learning the gift of accepting help. Asking for help doesn't make you weak. It takes a strong person to admit they need help to solve a problem."
Meghan Trainor tells People magazine that she shares everything with her brothers. "I don't hide anything from them. They're my biggest supporters. I think they sometimes don't want me to share everything that goes on though. I mean, what brother wants to know what goes on in his sister's bedroom? Or her bathroom?"
The Sun says Harry Styles is selling his Los Angeles home. It has an office, a gym, a home theater and a pool. Harry is asking $8 million.
Katy Perry was recently doing an interview with BuzzFeed when they asked, "If you could add anyone as the fourth 'Idol' judge, who would you choose and why?" She said, "This is an invitation from me, Katy Perry. Lizzo, I'm asking you to join the panel. I'm feeling a little outnumbered on the testosterone. I could really use some bold, honest, hot takes
The Weeknd tells Interview magazine that feeling free and vulnerable are the keys to a good relationship. "You got to feel free to be yourself. If you feel you have to hide something from your partner, that's not a healthy relationship. You have to be free with each other and be able to feel vulnerable with each other. If you don't have that, you don't have a relationship."
The Daily Mail says Taylor Swift is going to allow her boyfriend, Matt Healy, to write songs for her new album. A source tells the newspaper, "Things are moving fast between Matty and Taylor. They're totally head over heels for each other. It's been decided that he will help her pen songs for her next album and he might even provide some vocals if it works for the tracks. Matty has been inspired after attending several shows on her US tour, but they won't have a lot of time to work together this summer as The 1975 also have their own shows. They are working things out though and are keen to make it happen. Ideally he would like to have a proper collaboration with the whole band involved. That's the only way Matty will ever appear on stage with her. He feels he has to earn it.''
The NY Post says Jeff Bezos and Lauren Sanchez have gotten engaged after dating for five years. The pair are currently vacationing on his $500 million yacht in the south of France. The NY Post says Lauren is wearing a 20 carat diamond ring that cost $2.5 million.
The NY Post says a Taylor Swift fan is selling rain from her Foxboro, Massachusetts concert this past Saturday. The droplets are in a plastic container and are selling for $250 on Facebook Marketplace.
The Internet reacts ...
"Floor seats rain or balcony rain?"
"scam."
"Fair price"
"Holy water"
"ridiculous"
"stupid."
Vin Diesel tells Variety magazine that he wants to make several Fast and the Furious spin-offs. "I started developing the female spinoff…in 2017 with other spinoffs, and the sooner I deliver the finale, the sooner I can launch all the spinoffs. Look how many characters and great talent there is in the movie. There was no way I can pull that off unless I had everyone on for five seconds. These characters are appealing and we need to see more of them."
Jack Reacher star Alan Ritchson makes an appearance in the new Fast and the Furious movie ''Fast X''. Alan tells Entertainment Weekly that Keanu Reeves was supposed to star in the film. "It was just a little stroke of luck and good timing. I was working on a movie with Hilary Swank up in Winnipeg in the freezing cold, and I got a call that things had shifted in the plans with Keanu Reeves, which is I think who was originally intended to play my part. Tough act to follow."
Geo TV, citing New Idea magazine, claims Jennifer Aniston and David Schwimmer may star in a rom-com together. A source tells the news outlets, ''Schwimmer has finally convinced Aniston and she is finally accepting scripts. Schwimmer wants them to reprise their iconic characters from the hit NBC sitcom, Ross Gellar and Rachel Green. Aniston is adamant they do something new. This is huge for Schwimmer. He's been on Jen to team up in a movie for years now, but the ''Friends'' connection put her off. It took years before Jen was known for anything else but that show and her divorce from Brad [Pitt].''
The website Amo Mama says Blake Shelton's fans are making fun of the clothes he wore to one of his stepson's Pop Warner football games. Blake was dressed in a camo shirt, old brown shoes and tattered jeans. He had a scruffy beard. The paparazzi took pictures of Blake as Gwen Stefani sat on his lap.
The Internet reacts ...
"He is 46 looking 70"
"Thought that was her dad."
"What happened to Blake? looks kinda bad."
"This is homeless Santa's lap."
Hollywoodlife.com says Paris Hilton's Chihuahua, Harajuku, died yesterday at the age of 23. Paris posted; "She lived a long, beautiful and iconic life, surrounded by love until her final peaceful slumber. Words cannot express the immense pain I'm feeling right now. For an incredible 23 years, she filled my life with so much love, loyalty, and unforgettable moments. She was more than just a pet; she was family to me, a loyal friend who was always by my side through every twist and turn life brought my way. Rest gently, sweet friend, knowing that you will be cherished and missed always. Love and miss you forever."
Variety magazine says Jude Law wore a repulsive cologne while playing King Henry VIII in his new movie, "Fireband." He tells the Cannes Film Festival, "I read several interesting accounts that you could smell Henry three rooms away. His leg was rotting so badly. He hid it with rose oil. I thought it would have a great impact if I smelt awful. [The perfume specialist] makes wonderful scents, and she also makes awful scents. She somehow came up with this extraordinary variety of blood, fecal matter, and sweat."
The Irish Mirror says Simon Cowell recently spent $75,000 turning his Mini Cooper into an eco-friendly car. A source says he and his son, Eric, designed the car and had the gas engine replaced with an electric one. "Doing the car up with Eric has been a labour of love. They have really bonded over implementing these changes, and seeing the car develop. Making it totally green was a number one priority." Doing the car up with Eric has been a labor of love. They have really bonded over implementing these changes, and seeing the car develop. Making it totally green was a number one priority." The new electric motor gives the car a range of 120 miles on a single charge.
Side Job Survey
A new survey by Herbalife reveals that 59% of people have a side job in order to make ends meet. Other findings:
- 44% of people have had to take a side job to keep up with the rising cost of living expenses
- 56% of people have a side job because they are finding it difficult to pay for food, utilities and medicine.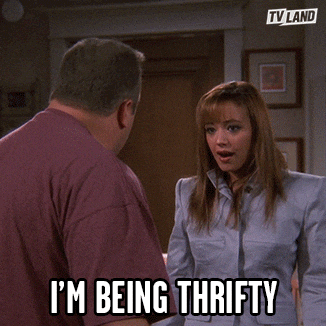 0 Signs Your Partner Is Too Frugal … According to a new article by Finance Buzz
1. They coupon too much
2. They won't talk about money
3. They don't want to celebrate milestones
4. You aren't eating well
5. They only want the cheapest thing
6. They make you feel guilty
7. They don't want to fix the house
8. They don't tip
9. They control the thermostat
10. They spend money on themselves but not on you
TOP 5 REASONS ORGANIZING HELPS MENTAL WELL-BEING … According to a new survey by One Poll
It boosts my mood - 54%
It reduces stress - 49%
It increases my focus - 48%
It helps me organize my thoughts - 47%
It helps my physical health - 45%
Dear Fonseca
My son came to my wife and I over the weekend and told us he wants to enjoy a Gap Year before starting college. We thought he was kidding. He's not. He says he needs to decompress from high school. My wife and I spent years working two jobs apiece in order to pay for his tuition. We are just as exhausted as he is. I think taking a Gap Year is a cop out and shows very little toughness. That's not how the real world works. He needs to push through like we did in college and with our second jobs. He is pulling on my wife's heartstrings and leaving her confused. What do you think about Gap Years? Are they a cop out? Should my son toughen up or should my wife and I acquiesce to his request?